Meet the Team
Amateur FA BOARD members
Johnny Bakker is a Chartered Director and a Fellow of the IoD as well as being a Fellow of the Chartered Institute of Training and Development (CIPD).
Much of Johnny's career, both as a practitioner and interim has been within the field of health and social care and, building on his social work qualifications, Johnny has specialised in children's and adult safeguarding.
More generally, Johnny has had a portfolio approach to his career for 27 years during which time he has undertaken a wide range of roles, often in parallel. The common denominator to his work has been "human dynamics" (how people behave in organisations, groups and 1:1), change (individual and organisational) management/company direction/governance, clinical work/therapy with individuals, strategic HRM / HRD and executive coaching and mentoring.
From 1990 to 2011 Johnny worked as an interim manager, up to director level in the NHS, Local and Central Government, in business and in training delivery (principally leadership, interpersonal skills and management, social work practice and safeguarding).
Johnny has BSc in Psychology, a Master's degree (MA) in Strategic HR Development, an MBA, and he studied for a DBA. He is currently working in his PhD these in Psychology and Neuroscience which he is scheduled to finish in 2021.
Johnny has considerable NED and trustee experience of a number of charitable organisations and other not-for-profit organisations. In addition to his appointment as Board Safeguarding Champion of the Amateur FA he is currently Chair of the National Association for People Abused in Childhood (NAPAC). In this regard Johnny is also an associate of the National Safeguarding Team of the Church of England and has also been an advisor (pro-bono) Roman Catholic Church.
John is a retired Local Government Officer and past president of the Amateur Football Combination (AFC) and Amateur FA.
He joined Old Camednians FC in 1969 and is a member of former Old Boys Football League Executive Committee, AFC Executive Committee and AFA Council. John is a long-standing Arsenal supporter.
Jonathan has worked within finance for most of his professional life and holds the Investment Management Certificate.
He played for Barclays Bank AFC as a Goalkeeper from 1997. He then became Chairman in 2007, joining the Southern Amateur League as Treasurer in 2008. In 2010 Jonathan joined the Amateur FA council and then became a director in 2011 and representative to the FA in 2018.
Rachel is a founding director of Women on Boards UK. She spent 18 years as an international corporate tax consultant working with PriceWaterhouseCoopers. After leaving in 2008 she joined Cardio Direct Ltd, a medical provider of cardiac services. Rachel studied at the University of Birmingham and is a Bachelor of Commerce. She is also a member of the Chartered Institute of Taxation, ATII qualified. In 2017 Rachel joined the board of the Amateur FA as an Independent Non-Executive Director and she is also an Independent Panel Member for the Ministry of Justice.
Away from WOB, Rachel is a keen Gunner with a soft spot for Leeds United, a passionate long-distance runner, club tennis player and enjoys long walks with her two Hungarian Vizslas.
Steve is a recent addition to the AFA Board (elected 2019) and is keen to bring his experience of amateur football at both club and League level, and particularly his football administration skills and wide knowledge of FA systems, to the role, as well as his experience in Risk and Finance.

Now retired, Steve is an experienced Commercial Banker, who worked in a wide variety of roles in Lloyds Banking Group in its various guises over many years. In recent times, Steve has been involved in Portfolio Analytics, Bank of England and Scenario Stress Testing, Economic Profit, and more recently worked with the frontline business in evaluating and pricing new and existing business.

Outside of the AFA, Steve is a member of the Southern Amateur League Management Committee (as Registration Officer and Development Committee Chair), as well as Chairman of The Warren FC.

Steve is a supporter and life member of Chesterfield FC, a town where he spent his formative childhood years.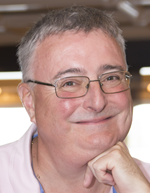 Tony has been Board Chairman for 3 years, striving to make the Board more diversified & inclusive.
Tony worked for Midland Bank in North Wembley & Shaftesbury Avenue branches. After sitting and passing The Institute of Bankers examinations, he resigned and worked for Chase Manhattan Bank, N.A.
He worked for JP Morgan Chase & Co. for 27 years covering several roles including Assistant Credit Officer. He completed the Intensive Credit Seminar comprising financial statement analysis; cash flow analysis; forecasting techniques; lending rationales and facility structuring. Relationship Manager to the Bank's High Net-Worth Hellenic Shipping Clients and part of the team that successfully launched an IPO on NYSE.
Following his departure from JP Morgan Chase & Co. he spent 13 years working for International Registries, Inc., the Maritime Administrators of The Republic of The Marshall Islands. He was a Deputy Commissioner of Maritime Affairs as well as Business Development Manager of International Registries (U.K.) Limited.
During his time at International Registries, Inc. he attended and passed the Quality Management System Auditor/Lead Auditor Training Course (ISO 9001:2000) delivered by BSI Management Systems. He attended and passed the Advanced Auditing Skills Training Course delivered by BSI Training. Tony has conducted several audits of International Registries offices including Germany, Greece, Netherlands, Dubai, India, Dubai, Hong Kong, Singapore and the USA (Fort Lauderdale, Houston, New York and HQ).
Will is an experienced finance professional with nearly 20 years experience working in the Private and Public sectors. He is a qualified Cost and Management Accountant and has worked in the project teams of some of the largest transport infrastructure projects of recent years including the Circle and District line modernisation, and currently is a Senior Finance Partner at a National Housing association.
A keen volunteer, Will led the training of 4000 transport volunteers for the 2012 Olympics as well as working as a gamesmaker himself.
He is the Hon. Treasurer of the AFA and has been on the board for 2 years. His particular areas of interest are governance and risk, and ensuring financial procedures are fit for purpose.
On the pitch Will has played over 200 games for the Old Malvernian FC and is a qualified referee.
As a Lancastrian in exile Will "enjoys" following the fortunes of Blackburn Rovers.